Press Releases
Clickindia.com among top 50 digital brands: The Economic Times
September 1, 2010:
The Economic Times, India's leading business newspaper has just released the list of top 50 digital brands of the year featuring Clickindia.com. We proudly take this opportunity to thank all our users who have shown their support and confidence in Clickindia time and again. Please
click here to read the full list
.
Clickindia Infomedia among 30 finalists for Businessworld Young Entrepreneur Awards 2010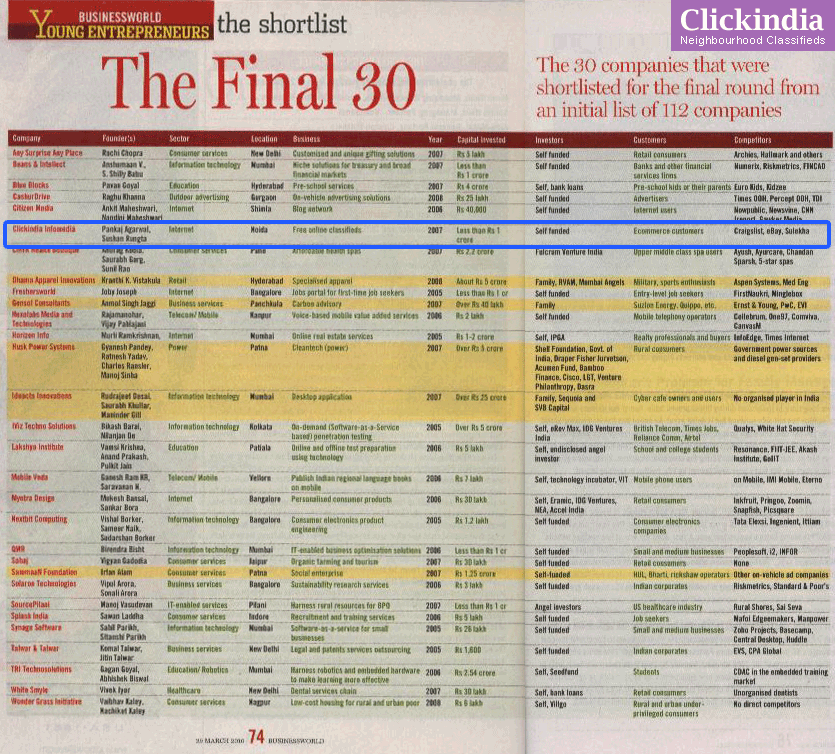 February 13, 2010:
Businessworld, India's largest selling business magazine, has announced a shortlist of 30 finalists out of 112 applications received for the candidature of the Businessworld Young Entrepreneur Awards 2010. The jury shall soon decide and select 5 most deserving and promising entrepreneurs as winners for 2010.
Mr. Pankaj Agarwal and Mr. Sushan Rungta, co-founders of Clickindia Infomedia Private limited are in the running for the award that recognises young and promising Indian Entrepreneur talent below the age of 35 years.
Sun Startup Essentials Entrepreneur Of The Week

December 17th, 2009
: "The market that India clicks", this is how Yourstory.in, a fast growing online platform providing visibility to first generation Young Indian Entrepreneurs & Start-ups, puts it in after an interview with the entrepreneur of the week, Mr. Pankaj Agarwal, the man behind Clickindia.com.
The write up talks about his journey as an entrepreneur, hurdles faced, lessons learnt, heights acheived, future plans and new features we can expect on the free classifieds website in future.
Read More »
Clickindia honoured with the Red Herring 100 Asia 2009 Winners Award
November 19, 2009:
Clickindia Infomedia Pvt Ltd, which owns and manages http://www.clickindia.com - India's leading free classifieds website, has been announced a Red Herring 100 Asia 2009 Winner. The award recognizes the 100 "Most Promising" companies in Asia driving the future of technology.
Red Herring Inc on November 19, 2009 announced the list of 100 private companies from Asia which have been honoured with this recognition. The editorial staff of California headquartered media company evaluated more than 800 private companies based on parameters like company financial, strategy execution, management quality, and dedication to research and development before revealing the final list of winners.
"It has been a challenging and revealing year for most companies across the globe, yet Red Herring received a very impressive list of nominations from Asia Pacific, said Alex Vieux, CEO of Red Herring. Companies that believe in constant innovation and consistent strategy, investing in people and technology, managed to overcome these difficult times and Clickindia Infomedia Pvt Ltd is one of them. They will certainly thrive in the marketplace and become a formidable force in the future."
On receiving the award, Pankaj Agarwal, CEO of Clickindia Infomedia Pvt. Ltd. said, "Clickindia is honoured to receive the Red Herring 100 Asia 2009 Winners Award. We are thankful to Red Herring and the users of Clickindia.com. The recognition would encourage us to work even harder." About Clickindia: It is one of the largest classifieds players in India & growing consistently. It was started in 2007 and has gained strong user loyalty who are benefiting from posting their advertisements for free. It is also present in mobile space with its site http://wap.clickindia.com/ which is also getting popular among mobile Internet users in India.
Clickindia.com can help in job search after retirement: Hindustan Dainik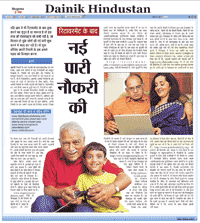 November 1st, 2009
: Clickindia.com has featured in an encouraging article on 1st November 2009 edition of Dainikhindustan newspaper.
The article talks about umpteen job opportunities available to the elderly people after retirement. It advocates use of Clickindia.com to search part time jobs, work home home jobs, data entry jobs etc. posted by various employers, and express interest to work or inquire more information by responding to the advertisement easily without having to go anywhere.
Interview With Pankaj Agarwal, CEO Of Clickindia.com - Insights On Online Classifieds Industry
August 14th, 2009
: Pankaj Agarwal was interviewed by Pourush Jain, an author at Wablog.com, on insights on online classifieds industry, future plans and prospects of Clickindia.com, business strategies and more.
Read More »
Vizisense ranks Clickindia.com as the "Top B2C Classifieds Website" in India
August 02, 2009:
Komli Media owned Vizisense, India's first audience measurement platform, has released the list of top Indian websites for the month of June 2009. The report is based upon the Indian Internet user behaviour in the past 30 days.
Vizisense has ranked Clickindia as the leading website in the B2C Classifieds Category, followed by Sulekha, Justdial, Olx India and Quikr. Clickindia has been assigned an overall rank of 27 with 2.90 million unique users and 23.8 million page views in the month of June.
Elated on the news, Pankaj Agarwal, cofounder of Clickindia.com, says "It feels great to have Clickindia.com ranked as the leading B2C classifieds site in India. Team Clickindia is thankful to the Indian Internet users who have made us reach this feat. We constantly strive harder to deliver more value to our users."
The list of 100 websites features Google, Yahoo, Orkut, Rediff and Youtube among the top 5 brands. Among other categories, Yahoo emerged as the most preferred web portal, while Google Search rules the web search category. Social networking category shows Orkut claim the top spot and Facebook positioned at second. Alibaba and Indiamart gets the top two places in the B2B classifieds sites category.
The complete list can be viewed at
http://www.vizisense.com/dashboard
. The ranking methodology, based on the number of unique users, is available at http://www.vizisense.com/doc/vizisense_methodology.pdf
Clickindia.com launches search widgets for free use
July 14, 2009:
Clickindia Classifieds, an Indian classifieds portal, which has widely gained popularity among advertisers, business groups and general public across India, has just announced the release of its free to use classifieds web widgets.
A widget is an application which can be placed by webmasters on their website or blog simply by pasting a small code. In general sense, a widget is supposed to render value by offering useful information or functionality to its visitors.
The quick search widget launched by Clickindia has a neat user interface and comes in two variants. The widgets can be easily placed on any blog or website which would equip the blog/website with a local city search and at the same time, displays popular search terms used by internet users at large.
Our idea to develop widgets is backed by an urge to make other webmasters join hands with us in spreading the basic information to internet users from different parts of the country, using more than one platform, says Pankaj Agarwal, co-founder of Clickindia.com.
A blog/website having Clickindia widgets allows its visitors to search for various items of daily requirement like jobs, mobile phone, laptop, used car, furniture, air conditioner, computer etc., along with a host of service providers like property dealers, placement agencies, interior decorators, travel agents, visa consultants, vaastu experts, financial advisers, matchmakers etc. The widget is also useful for business people to find buyers and suppliers for their products and services.
In another development, Clickindia.com, which attracts over 7 million unique users monthly, has also added 8 more cities to its portfolio of city specific search. So users can now filter search results on Clickindia within 16 cities and get better results.
Clickindia.com Introduces City-wise Classifieds Search

February 24, 2009: Clickindia.com, an Indian classifieds website, has launched its city wise classifieds search. The new search now empowers users to search ads within a desired location.

So, a user searching for "apartments for sale" can enter the relevant keyword in search and select a city from the drop down menu provided next to it. This will show ads related to "apartments for sale" from the selected city only. The search also allows user to filter ads using the "Filter by" tool available on every results page. The new search smarlty highlights searched keywords on the results page. This makes sure that the user knows what he can expect in a particular listing and save time spent on browsing through the search results thus enabling easy navigation.

"We had been receiving mails from users that they would like to see location-wise search on Clickindia. Based on the feedback, we have provided city based classified search on the site. We are grateful to the users for their support and strong belief in Clickindia.com" said Pankaj, Clickindia.com.

Notably, Clickindia.com has stormed into the list of top 100 Indian websites released by Comscore in its December 2008 report and Alexa ranking as on February 17, 2009. Clickindia offers classifieds listings from over 350 categories and serves over 3 million users a month.

ClickIndia is your neighborhood classified ad posting site that aims at matchmaking opportunities. Clickindia.com is the most preferred way to search, buy or sell, to exchange, to interact for common or complementary interests within or across local communities in India.
Clickindia.com selected as a finalist in Red Herring 100 Asia Awards 2008

October 21, 2008: Clickindia.com, a premium Indian free classifieds portal, has been selected as a Red Herring 100 Asia Awards 2008 finalist. The prestigious award ceremony which has Google, Skype and eBay among former winners, will be held in Hong Kong on 2nd and 3rd December, 2008.

"It gives us immense pleasure to announce that Clickindia.com has been selected as Red Herring 100 Asia Finalist company. The nomination shows that our hard work has been noticed and appreciated by the industry", said Pankaj Agarwal, co founder of Clickindia.com. "This is an ideal start for clickindia.com as we look forward to achieving more milestones in the future. We believe this nomination will open up avenues for further growth of the company", he added.

The Red Herring 100 Asia Awards 2008 finalist list consists of companies based in 16 countries including China, India, Japan, Singapore, South Korea, Australia and Vietnam. The winners will be named in an award ceremony to be held in Hong Kong on 2nd and 3rd December, 2008.

"The 200 finalists we selected from across 16 countries and regions are all excellent contenders," said Joel Dreyfuss, Editor-in-Chief of Red Herring. "They are exceptional companies who thrive on innovation and strongly define the important role of technology in Asia's economy and throughout the world."

Clickindia.com is a free classifieds website from India which has grown over 400% in past 6 months in terms of daily impressions. Its recent launch of city based events has been received well by users. Clickindia.com now allows users to post free classifieds and events happening anywhere in India.
Clickindia.com sizzles with the launch of its new "Events" section

Sep 09, 2008: Clickindia.com, India's leading internet classifieds has stormed into the festive season 2008 with the launch of its new Events section.

Clickindia's events launch will serve users information related to live concerts, music and dance shows, workshops, seminars, lifestyle, literature, arts, exhibitions, sports, theater, food and dining promotions, etc. being organized in neighbourhood areas.

"The launch of events on Clickindia will add more colors to the portal. So far users could use our services primarily to meet their business and/or personal requirements. Now, they will also be able to explore some interesting activities and happenings in their neighboring localities. We look forward to promote event listings on the Clickindia with a strong belief that every event has some message or information to deliver to the society, they can help us to take a break from the daily chores of life & work", says Pankaj Agarwal.

Events can be listed on Clickindia.com for free. Posting an event is very simple and takes no more than 2 minutes. The user is required to fill in basic information about the event, its date of occurrence and venue. A user may also upload relevant images along with the event listing. The form is easy to use and comes with a help tag for each field to guide users along the way.

The events section can be accessed from http://www.clickindia.com/events and an event can be posted on http://www.clickindia.com/cimem/event.php

Clickindia.com is a free classifieds website used by people to buy or sell many new and used items, advertise their business, website, new product or service, explore offers, promotions, events being organized in their locality and much more.
Clickindia.com Launches Online SMS Response Feature

May 13, 2008: Clickindia.com, the neighborhood classifieds site has introduced a new feature called SMS response. This feature lets the user to express his interest in an offering by sending a free SMS to advertisers on their mobile phone. The service is absolutely free of cost, both for the advertiser and the respondent.

With the introduction of this service, Clickindia.com has moved a step further in providing convenience to its user. New users can take advantage of this service by simply providing their mobile number at the time of posting an ad. Existing users who have not provided their mobile number to their preferred contact details can use this facility by adding their mobile number to the posted ads.

This service would be of great help both to the advertiser and respondent because it connects them instantly and initiate direct communication between them. Tools like this, helps the internet user find more comfort in posting and responding to the ads. Also, it would attract more users to buy and sell through online classifieds.

"We are witnessing a substantial boost in our user traffic after the launch of this service. Positive on our future growth, we are planning to include other useful features in the days to come. Getting newer options to facilitate communication between the advertiser and respondent would be part of our promotional strategy." says Sushan Rungta, Co-founder, Clickindia.com.

This feature can be used to send free SMS to any mobile in India. To send response by SMS, the user has to write his name, mobile number and a message in an AD detail page and press the 'Send SMS' button. The advertiser, on receipt of the message, may communicate with the respondent either by replying back to the SMS or calling back on that number.

Clickindia.com is an online classifieds site which allows users to find various offers, deals, products and services from thousands of Ads posted by members in different categories. Posting an ad is fairly easy using a simple online form or sending ad as a message to +91-9999-699-799
City Guides Launched by Clickindia.com to Cater to Local Needs

April 03, 2008: Clickindia.com has launched various city-specific guides, including Delhi, Mumbai, Chennai, Hyderabad, and Kolkata. The new local guide consists of city information, maps, advertisements and events specifically within city only.

"The city portal has been launched keeping in mind the essence behind Clickindia's name, i.e. neighbourhood classifieds. Now people in these cities may find suitable offers / deals available in their neighbourhood with minimal time and effort", says sushan, co-founder of Clickindia.com

The idea behind Clickindia.com's launch of city portals is to ease the process of finding and, if necessary, meeting a suitable contact for a product/service/information that might interest the user. Now users can search for suppliers, buyers and advertisers operating in a particular city of choice and even meet them in person before transacting.

The initial response to our city guides is tremendous. We have already seen a jump of over 30% in user response and new ad requests. Positive feedbacks sent by our users reinforce the faith they have in us and our team is focused on providing features that are simple to use and user friendly, says sushan with a beam. No wonder the team is ecstatic; all of the last 3 launches this year have scored a hit with the users who have given thumbs up to the site.

The website plans to launch other cities as well for which it has partnered with My CityPedia Publications for local guides. This will help users to get location-specific search results, latest happenings, classifieds, and city information at one place.

About Clickindia.com
Clickindia.com allows users to submit, find or view buy/sell offers, deals, advertisements posted by its user-base spread across India. Posting an ad is fairly easy using a simple online form or sending ad as a message to +91-9999-699-799
ClickIndia Adds Two New Features to Website

March 02, 2008: Clickindia.com has added two more forward-looking features to its bucket of offerings. It has unveiled an optimised search which makes finding products, services, information and deals of one's interest a much easier and simpler task. Additionally, a swanky Ad posting form has also been introduced which aims to offer an improved user interface and enriched customer experience.

"The new features are aimed at the convenience of two kinds of visitors on Clickindia. The first kind of visitors include users who browse the website for something they may need; and the second kind of visitors include users who post ads with an expectation that other users will see their ad and respond to the offer. Therefore, to ensure satisfaction of these users, we have added a new search which delivers faster and more accurate results, and a simpler ad posting form with rich capabilities of generating greater number of targeted responses", says Pankaj Agarwal, co-founder of Clickindia.

The new search is more flexible, easier to use and has powerful text search capabilities. One simply needs to enter appropriate keywords to get matching results. To make browsing simpler, the search technology suggests "Related Categories" which guides the user to similar ads in categories that are relevant to the keyword searched for. It also enables searching for information relevant to a particular segment, location, product/service, or business.

On the other hand, the new form is more user friendly and offers text formatting options. It encourages a user to enter keyword(s) of choice which provides better searchability and visibility to the posted ad. Keyword addition is a significant feature of this form which enables the ad to be targeted at specific users and attract more appropriate responses. "The new form guides the user at each step by displaying a hint box to fill in the corresponding fields. This helps the user to fill in more appropriate information, reduces the amount of time spent while ad posting and generates more responses to the ad", adds Pankaj.

Clickindia.com is a free online classified ads portal where users can post their requirements or search for special offers/deals, buyers/suppliers for a particular product or service at a particular location in India.

Users may post ads using either of the three easy alternatives:
- Visit the website and click on "post an ad" logo on top of the home page to submit an ad
- M2i: Use a mobile phone to send SMS providing a brief ad description to +91-9999-699-799
Clickindia.com climbs up the popularity charts even in the remote areas in India

January 24, 2008: Clickindia.com is your neighbourhood online classifieds directory facilitating buy, sell, use or exchange daily requirement products, services and information, and interact with other users residing anywhere in India.

Clickindia.com has now started attracting users from remote areas in India where internet is still not the first choice for people looking for classified ads. It has been consistently receiving a lot of ads from mobile phone and internet users located in small Indian towns like Shillong, Kavaratti, Gangtok, Raipur etc. to name a few.

This is an example of the spurt in interest and awareness amongst the people residing in remote towns and cities towards internet and online classifieds. Clickindia.coms reach in metros and remote places signifies the diversity in the type of ads being added daily to the website. The increasing number of new visitors and higher satisfaction levels of existing users (depicted by number of repeat visits and ads submission per day) makes clickindia.com a common platform for buyers and sellers with different needs, lifestyle and demographics to interact with each other and find an easy solution to their requirements.

Ads can be posted by any individual in India having buy/sell/meet requirements related to education, real estate, cars, automobiles, services, electronics, furniture, travel and many more.

Clickindia.com allows you to post ads using either of the three easy alternatives:
- Visit the website and click on "post an ad" logo on top of the home page to submit an ad
- M2i: Use a mobile phone to send SMS providing a brief ad description to +91-9999-699-799